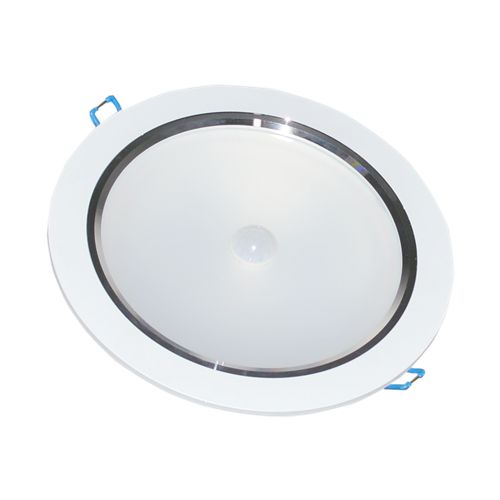 PIR LED Downlight
2018/10/11 21:26:47
Brand

LED Indoor Lighting

Model

PIR LED Downlight, PIR LED Light, PIR Light, PIR Lamp, PIR Downlight
Introduction
Function Description:
1. The lamp will light up in 30 seconds for warming after switched on. Then enter into the sensing status (switched off) to 20% brightness.
2. When a person or a car enters into the sensing area of the lamp, the lamp will light up automatically, and lasts for 2 minutes each time, when the person leaves away from the sensing area of the lamp, it will be 20% brightness automatically.
3. The infrared sensing range is about 5 meters radius. It lights up for 2 minutes when sensing each time and continues to light up as long as a person stays in the sensing area with intermittent movements.
4. The installation height is 2-4 meters, if too high or too low, the sensing area will be influenced. The change of environmental temperature also affects the range and sensitivity of infrared induction.
Features:
1. Strong stability and high sensitivity.
2. Easy to install on Ceiling T Bar.
3. High efficiency and uniformity of light emission.
4. Good thermal dissipation design.
5. Cool beam avoids heat degeneration.
6. Energy saving and Environment Friendly.
7. Long operation life.(>40,000 hours), Warranty: 3 years.
SPEC:
Item name

Watts

Voltage

Size

Color

LED

CRI

Lumens

JS-DL-3IN5W

5W

AC100-240V

110*40*90mm

3000K/4000K/6000K

Epistar

©ƒ80

400lm

JS-DL-4IN7W

7W

AC100-240V

148*45*120mm

3000K/4000K/6000K

Epistar

©ƒ80

560lm

JS-DL-5IN12W

12W

AC100-240V

180*50*150mm

3000K/4000K/6000K

Epistar

©ƒ80

960lm

JS-DL-6IN15W

15W

100-240V

190*50*170mm

3000K/4000K/6000K

Epistar

©ƒ80

1200lm
Applications:
PIR LED downlights are designed for aisle, stairs, garage, hallway, toilet, balcony, kitchen, warehouse, elevator, children's room, utility room automatically open and closed spaces.
More Products